The Chromebook Bulletin: April/May 2017
You want to keep up with the latest information on Chromebooks, but who has time to read it all? Look no further! Here is a selection of great Chromebook information from around the internet that you might want to know about.
---
Microsoft Unveils Surface Laptop to Compete With Chromebooks
Writer Lisa Eadicicco notices that the new Surface Laptop has a lot in common with MacBooks, but has copied the 3 x 2 screen aspect ratio that is found in the Samsung Chromebook Pro and Plus. It's taking on the MacBook and the Chromebook at the same time
For the full version, check out: http://time.com/4763097/microsoft-surface-laptop/

---
Microsoft Looks to Regain Lost Ground in the Classroom
Google, with its low-cost and easily maintained Chromebooks, has steadily taken school customers away from Microsoft. The article describes Microsoft's attempts to regain Google's power in the classrooms: a classroom-optimized version of Windows, Office tweaks and a new Surface Laptop.
For the full version, check out: https://www.nytimes.com/2017/05/02/technology/microsoft-google-educational-sales.html
By NICK WINGFIELD
---
As Chromebook sales soar in schools, Apple and Microsoft fight back
Few saw the Chromebook coming. When it launched half a decade ago, the category was broadly maligned for its limited feature set, middling hardware specs and operation that seemed to require an always-on internet connection. Brian Heater writes in detail how the Chromebook took 58% of the market in K-12 schools, and how Apple is making needed changes to prevent losing more if the market in devices used in schools.
For the full version, check out: https://techcrunch.com/2017/04/27/as-chromebook-sales-soar-in-schools-apple-and-microsoft-fight-back/
---
Spying on Students: School-Issued Devices and Student Privacy | Electronic Frontier Foundation
by Frida Alim, Nate Cardozo, Gennie Gebhart, Karen
More and more students are handed cloud-enabled devices in schools across America. This article studies the ethical questions that arise with the unprecendented rate of use of this technology. What information is collected on students and how is their privacy being handled?
For the full version, check out: https://www.eff.org/wp/school-issued-devices-and-student-privacy

The $999 Surface Laptop is Microsoft's expensive answer to Chromebooks
Microsoft just revealed the newest Surface model and it's aimed directly at the education market. Called the Surface Laptop, this is the notebook Microsoft hopes schools will buy instead of a Chromebook. But will it be a real Chromebook competitor if it's starting price tag is $999 ?
For the full version, check out: https://techcrunch.com/2017/05/02/the-999-surface-laptop-is-microsofts-expensive-answer-to-chromebooks/
By Matt Burns
---
Lenovo Launches 2-in-1 Flex 11 Chromebook: Quad-Core SoC, 4 GB RAM, from $279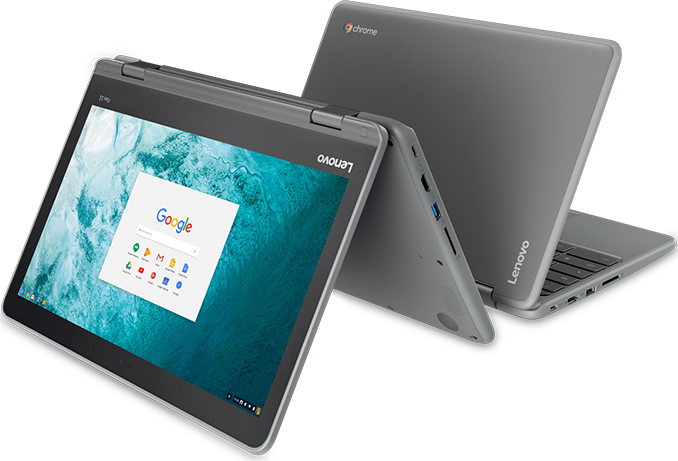 Lenovo has announced its first 2-in-1 Chromebook designed specifically for consumers. The Flex 11 laptop is powered by an SoC with four ARM cores, features a 360° hinge, a battery that can last for 10 hours and an anti-spill keyboard, a rare feature on inexpensive PCs.
For the full version, check out: http://www.anandtech.com/show/11291/lenovo-launches-2in1-flex-11-chromebook-quadcore-arm-soc-4-gb-ram-from-279
By Anton Shilov
---
The new Surface Laptop is no Chromebook
And Windows 10 S is no Chrome OS either. The article compares Microsoft's new device and OS to Google's Chomebook and Chrome OS and draws the conclusion that neither Surface Laptop or Windows 10 S will survive in the long run… or overtake Chromebook and Chrome OS.
For the full version, check out: http://www.zdnet.com/article/the-new-surface-laptop-is-no-chromebook/
By Steven J. Vaughan-Nichols